SIGN GREETERS LICENSEE PROGRAM

Thank you for inquiring about owning your very own Sign Greeters business!  We provide impactful custom yard greetings and for any occasion or event.

A GREAT HOME & SOCIAL DISTANCING BUSINESS OPPORTUNITY
Sign Greeters is a great home-based business opportunity for part-time or full-time work.  Celebration yard signs are more popular than ever and our business model is a perfect way to start your own business.

SIGN GREETERS – IT'S A BUSINESS IN A BOX!
A Sign Greeters business investment is based on your zip codes (territory) and your starter kit inventory package.  Your initial start up fee includes everything you need to get your business started.  Included are the business solutions and tools to sell and market your territory:  corporate marketing support, custom website presence, inventory, and training.
The advantage to joining

Sign Greeters

is, you do not have any percentage of your monthly sales taken away from you.
You are purchasing a License Agreement from

Sign Greeters,

 LLC.
Licensing Fee information will be provided to you during our discovery call.

Sign Greeters

will provide you with a toolkit full of marketing, online, and sales support to help you be successful.

Sign Greeters

is building and maintaining a national web presence thru SEO, SEM and Paid Ads on Google, Facebook and Instagram.

Sign Greeters

is creating, building and growing a brand that will have national equity and following.

Sign Greeters

is providing tools, templates and resources for each Licensee to use the

Sign Greeters

Trademark and likeness on all branded and printed materials, emails.

Sign Greeters is an exclusive opportunity for the right person or team.  We're looking for people who understand how important it is to deliver the absolute best in quality and customer service.  People who are disciplined self-starters with a high level of energy, passion and integrity.

WHAT ARE WE LOOKING FOR IN A SIGN GREETERS LICENSEE?
Demonstrated interpersonal and communication skills backed by the desire to build and maintain long-term client relationships.
A strong network and a residence in the designated territory.
Proven organizational and scheduling abilities, as well as the ability to adhere to the

Sign Greeters

system.
Capital to invest in the business and the financial support to get the business started.
The ability to get started within 30 days.
This business is FUN. We think big and we hope you do too.  We are looking for  partners with the drive and passion to bring Sign Greeters to every city in the United States.  In return, we'll be there for you every step of the way toward success, growth, and FUN!

GETTING STARTED
In as little as 30 days you can be up and running in your own Sign Greeters business.  That includes receiving your inventory, as well as your personalized web presence and customized marketing materials.
Turn-key marketing included in start-up fee:
Listing on www.signgreeters.com website (by zip code) driving leads and sales.
Monthly SEO maintenance on  www.signgreeters.com.
National

Sign Greeters

Facebook, Instagram and Google ad placement.
All national

Sign Greeters

social media managed daily – facebook, instagram, twitter, snapchat, youtube.
Monthly marketing materials and promotions distributed to you to assist in driving sales.
Training included in start-up fee:
Virtual start-up and ongoing training from the corporate team.
Monthly virtual meetups with other owners.
Online private groups with other owners.
Is a Sign Greeters business right for me?
Must be able to physically lift and carry product, bending and strength to push stakes in ground.
Have time to commit to customer service, answering/returning calls, checking emails and texts.
Be a self-starter who is eager to serve their clients.
Steps to get started:
Pre-screen virtual interview process.
If approved, initial start-up fee will be due upon execution of the agreements.
Monthly Licensing Fee as described above.
"With decades of event planning experience for special occasions, becoming a licensee with

Sign Greeters

is the perfect compliment to my love of making celebrations unique.  It's amazing how something as simple as placing a sign in someone's yard adds to their special day.  The smiles, jumps for joy and happy tears that come along with our larger than life signs – fills my soul; especially during this challenging time of social distancing. The decision to join the flock of

Sign Greeters

 birdies was a very easy one for me.  After a bit of research and my initial call with the creators of this amazing company, I knew that I had to be a part of it!  The on boarding was incredibly simple and I was up and running is less than 30 days.  The amount of support that is provided throughout the entire process is more than I could have imagined.  If you are looking for a company culture that is creative, collaborative and full of inspiration; this is the perfect opportunity for you."
Dawn, Tibbles, Sign Greeters of Buford, Georgia
"After decades working in corporate America, from Wall Street to small family businesses, joining 

Sign Greeters

was a breath of fresh air.  Not only is

Sign Greeters

a fun business where every client is happy to see you, but the owners are incredible and you'll immediately want to join the family.  The support they provide is amazing and they are always one step ahead with fresh new ideas.  Everything you could think of – from start to finish – has already been identified, improved and set up for you to be successful.  The onboarding checklist, sign starter kit and other essential items make the transition simple and will have you up and running in no time at all.  Stacie, and Ivonne could not have done a better job starting this company and once you meet them, you will understand.  I could not be happier with this company and highly recommend them to anyone who enjoys being social and is looking to become their own boss."
Evan Roberts, Sign Greeters of Orlando 
"I've always been involved in community outreach – PTA, Booster Clubs, Volunteer Work, etc…It fills  apart of my heart and I love helping others. When the pandemic hit, back in March, I had to leave my job to help our youngest with online school and that hurt our pocketbook, for sure! After months of looking for opportunities that allow for time flexibility and the possibility to generate some substantial income, I saw a childhood friend's post on Facebook, which led me to

Sign Greeters. 

This business FILLS MY HEART! This business is my "WHY". I'm spreading joy, love, hope and kindness and I'm getting paid for it!!! The time flexibility makes it so easy to run this business without taking much needed family time.  I ?

Sign Greeters

!!!!
Angie Trimbach, Sign Greeters of Roswell, Canton, & Woodstock, Georgia
"With years of sales experience and working in the social service arena, we knew we wanted to expand our careers and found the perfect business, SignGreeters. This business, of providing custom made yard greetings has provided so much joy and happiness for both the customer and ourselves.  After researching the company and having many conversations with the owners, we knew this was the exact opportunity we were looking for! The support and guidance we were given made the entire process seamless. We were up and running in 30 days." 
Jodi Aiken, Sign Greeters of Toledo, Ohio
"I absolutely love working with Sign Greeters! The owners, Stacie & Ivonne have been super helpful in getting the company launched from scratch and have been able to provide tremendous support along the way.  Our website is amazing and I feel attracts lots of visitors to our page to explore what Sign Greeters is all about! I would highly recommend starting being a part of Sign Greeters as a licensee in your local market."
Cheryl Krpata, Sign Greeters of Ft. Lauderdale, Florida
Frequently Asked Questions
Q:  Will I be the only licensee in my market?
A:  Sign Greeters limits the number or owners to a certain number of zip codes with a population total of no more than 200,000. Additional zip codes are available if you are interested.
Q: Do I have to commit to a certain number of sales?
A: There is no minimum sales requirement to own a Sign Greeters license.
Q: Do I have to order more supplies in addition to my starter inventory package?


A:  There are no minimum inventory orders required, you can add inventory at your own discretion.
Q: Do you get a fee for every sign we sell?


A: Not at all! Every licensee has their own business and keeps 100% of their sales. We do not collect any royalties.
Q:  What if I need more letters or graphic designs? 


A:  It's very easy. There will be a special page for the licensees to shop from. This page will include all the letters, additional signs and a variety of packages that are available to you.
Q:  Can I charge people more or less than what the website says?


A:  This is your business! You can charge what you want for your signs. We strongly suggest you consider your territory/location and what would be most reasonable.
Q:  How much do you think I will make from my Sign Greeters business?


A:  We are here to support marketing efforts to drive business and awareness to your company, but we highly recommend you also do your own localized marketing efforts.  On average, if you charge $100 per night here is a high level overview of your potential revenue, but we cannot guarantee anything.
| | | |
| --- | --- | --- |
| Rentals Per Week | Income Per Week | Income Per Year |
| 3 | $300 | $15,600 |
| 10 | $1,000 | $52,000 |
| 20 | $2,000 | $140,000 |
| 30 | $3,000 | $156,000 |
| 40 | $4,000 | $208,000 |
Inventory package Starter Kit A:
288 pieces & stakes included: 3 sets of Happy Birthday, 1 set of Congrats, Boy, Girl, 2 sets of A-Z, 2 sets of 0-9, stars, balloons, additional graphics and punctuation.
Additional sets and graphics available for purchase on our website.
Inventory package Starter Kit B:
135 pieces & stakes included: 2 sets of Happy Birthday, 1 set of A-Z, 1 set of 0-9, stars, balloons, additional graphics and punctuation.
Additional sets and graphics available for purchase on our website.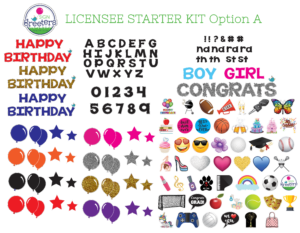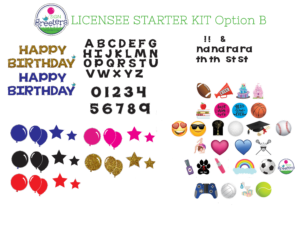 BIRTHDAY
Happy 10th Birthday [name]!
Cheers to 60 Years!
Happy Sweet 16 [name]!
Almost out of his/her Prime [name] is 39!
How Fun [name] is 1!
Lordy Lordy [name] is 4-0!
Oh No [name] is the Big 4-0!
[name] Is Over the Hill!
Say it Isn't So [name]  is the Big 5-0!
[name] is Looking Great at 28,28,38,58!
Party On [name] Happy Birthday [name] is 1!
Happy Birthday Pop/Nana/Paw Paw!
Celebrating 50 Years of  [name]!
Fishing you a Happy Birthday!
Best Wishes on your Birthday!
It's the Big One! Happy Birthday!
Happy Birthday  [name] you Old Buck!
[name] is Hot & Flashy at 50!
[name]  is 50 & Functioning!
50 is 5 Perfect 10's! We love  [name]!
Everybody Scream  [name] is 13!
BABY SHOWERS & NEW BIRTH
A Blessing Has Arrived!
Welcome God's Little Miracle!
It's a Boy/Girl  [name] [birthdate] Congratulations [mom's name] [name] is Here! [weight] The Shower is Here!
Welcome Baby  [name]! [weight] Let's Shower  [name]  with Love!
WEDDING & ANNIVERSARY
Happy [year] Anniversary!
Celebrating [name] & [name] [wedding date] Cheers to Many More Years!
[name] & [name] I Do! [wedding date] Best Wishes [name] & [name] [wedding date] Will you marry me?
CELEBRATIONS
The Party is Here!
Congrats on your Retirement!
Congrats Grads [year]!
Happy New Year [year]!
Happy Valentine's Day!
Welcome