Sign Greeters Atlanta recently installed signs for 17-year-old Justin! He was celebrating earning his pilot's license. Here is a little bit about Justin:
"I was inspired to become a pilot because of my grandfather who is also s Pilot! My favorite part about flying is the feeling of freedom I get once the wheels of the airplane leave the runway. I was 16 When I took my first flying lesson." – Justin Jacobs
We are so glad that we go to help Jacob celebrate!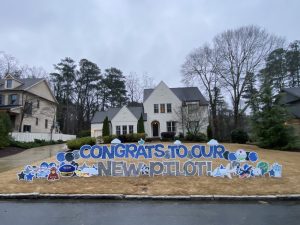 If you would like to decorate a yard for someone's special occasion, please check out all of our locations. We love to decorate for birthdays, anniversaries, graduations, baby showers, gender reveals, retirements, and all occasions! If you are interested in becoming a Sign Greeters Owner, I would be happy to have my owners touch base. You can check out the details here.
Smiles & Happiness,
Brutus, The Sign Greeters Birdie